It's hard to believe but #privchat — the Tuesday morning Twitter Privacy Chat — has been going on for almost a year. CDT, Privacy Camp, and EPIC have done a great job moderating, and the attendees are a great cross-section of the privacy and civil liberties community: non-profits, privacy-focused startups, academics, privacy professionals at large companies, and activists (hiiiii!).
So let's build on that success with a road trip, and bring the same kind of social networky goodness to Diaspora *!
If you're thinking that you don't have time for yet another social network, I feel your pain; the plan I'm suggesting only requires an hour of your time. Before we get there, though, I want to talk a bit about why I think it's worth doing.
Why Diaspora *?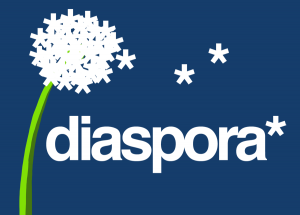 Diaspora shot to prominence last May, as four NYU undergrads raised money on Kickstarter for a distributed open-source privacy-friendly social network project just as a Facebook privacy storm kicked off. Good timing!
Eighteen months and $200,000 later, Sarah Mei and Yosem Companys have joined the core team, and there are dozens of public installations with tens of thousands of Diasporans. Liz Gannes' Diaspora Prepares to Launch Open Source network on All Things D and Not vaporware, not a Nigerian prince on the team's blog give an idea of the current status: an engineering team focused on getting to beta, a growing community, another round of fundraising in progress. Hanging out on Diaspora a lot for the last month, I've had interesting discussions with interesting people from across the world.
And one thing everybody that I've run into so far has in common:
They care about their privacy.
Sounds like a huge opportunity to me. Just by getting involved with Diaspora, we'll be helping a privacy-friendly open-source social network project during a challenging time. And at the same time:
non-profits and activists can engage with the grassroots — and find people to relay action alerts as well as potential new supporters
privacy-focused startups can meet people who value privacy … aka potential beta testers, customers, and advocates
corporate privacy professionals can get experience with a cutting-edge technology and dazzle your colleagues at IAPP (and the techies at your company!) with your insights into how the webfinger protocol enables decentralized name lookup
Sounds like a win/win situation to me!
It's not all sweetness and unicorns of course. The software is nowhere near as polished as Facebook and Google. And there are lots of challenges from a privacy perspective: there's no way to keep things on your profile private from your connections, the code hasn't been through a security audit (so data is probably vulnerable to hackers), some pods have very weak privacy policies, and I'm not sure if it works with Tor.
Which leads to another potential benefit for a road trip. Feedback from the #privchat community about what it will take for them to be successful as a privacy-friendly social network is extremely valuable to the Diaspora team and pod operators — as well as to all the people working on other open source distributed social networks like Buddy Press, Friendika, Appleseed, status.net, and Buddy Cloud.
So let's get started!
You can get a quick taste of Diaspora in just a few minutes. Over the next couple of weeks I'll try to develop a good one-page overview (analogous to Getting Started on Twitter), but for now here's a rough outline
Set up an account on one of the open "pods". I'm on diasp.org; podupti.me and Pod Up have directories of other pods.
Use #privchat as one of the hashtags in your profile to make it easy for us to find each other.
Share an interesting link and include the #privchat hashtag
Follow the #privchat hashtag, and reshare the interesting stories and join in the comments
Add other privchatters to your aspects.
Take notes while you're doing these things, and let the Diaspora team know about any problems you run into — as well as any pleasant surprises, of course!
Once a bunch of us have accounts over there, a good next step would be to have the privacy chat on Diaspora instead of Twitter one of these weeks. It'd be a very different dynamic: different threads for the different questions, a chance to use more than 140 characters, and a chance to interact with new people. And who knows, if it goes well enough there might be enough critical mass for a regular Diaspora privacy chat some other day of the week.
Something that comes up again and again on #privchat is that many people want an alternative to the corporate social networks of the world where we're the product. Here's a chance to experiment with a different environment. Please check it out!
jon
Also posted on Tales from the Net, Diaspora and Dreamwidth
My blogs drowning under spam so I've temporarily disabled comments here; please leave feedback at one of the cross-posts!