Draft posted August 14. Substantially revised August 17.
The second of a two-part series on the Black Hat USA 2008 security conference.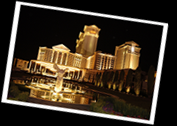 Back when we lived in San Francisco in the 1990s, we were huge fans of Fuji TV's Iron Chef, then shown with subtitles on a local cable station. When local chef Ron Siegel repeated his winning "lobster confront" menu at Charles Nob Hill, word got leaked to the Iron Chef mailing list and we managed to get seats … wow! And I'll never forget the time that Bobby Flay in his exuberance jumped on the sushi board; so of course when I was at Caesar's I had to have lunch at his Mesa Grill.
Iron Chef is also a good lens to looking at Black Hat from the perspective of the consulting I'm doing for San Francisco-based startup Coverity. This gives a completely different picture of the conference than the political and front-page-news of Vegas Baby! Black Hat, glitter, and pwnies. It's just as interesting though, thanks in no small part to Fortify's Iron Chef Black Hat.
2008 08 17